IS-Wireless has been selected to provide private 5G for Industry 4.0 in Germany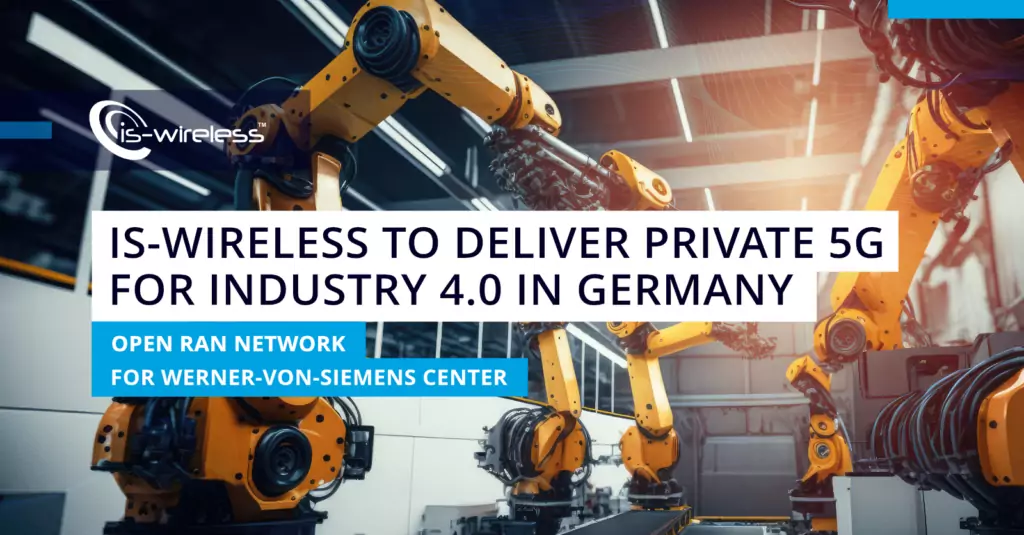 The CampusDynA consortium, comprising of German industry leaders such as Gestalt Robotics, T-Systems, OSRAM, Fraunhofer, and Werner-von-Siemens Center for Industry and Science, has chosen IS-Wireless as the provider of the 5G network based on the Open RAN model. It will be deployed in Berlin later this year.
The consortium focuses on exploring the potential of Open RAN private networks in industrial applications, including autonomous mobile robotics and optimization of energy use in production plants. IS-Wireless will support these activities by delivering a complete Radio Access Network including O-RU (radio units), DU (distributed units) and CU (centralized units). The company will also provide near-RT RIC (RAN Intelligent Controller) with xApps ensuring the necessary network performance needed in the demanding use case of connected and autonomous mobile robots. Successful CampusDynA private 5G deployment in Berlin is of prime importance for the consortium members to reach the project goals:  gaining insights on the potential of Open RAN technology for industrial applications.
We are pleased to be able to work with IS-Wireless in the future. A stable private 5G network creates the basis for novel edge-controlled AMRs that communicate with our NavigateSYS software. Our primary goal in the research project is to achieve an optimal allocation of capacity in the network and thereby use the bandwidth more efficiently. In this way, we are working on making future AMR models much more intelligent. We are proud to be part of this project.

Prof. Dr.-Ing. Jens Lambrecht, Managing Director, Gestalt Robotics
With the test field at the Werner-von-Siemens Centre for Industry and Science in Berlin, we have the opportunity at an early stage to practically test the latest technology trends such as Open RAN based campus network in interaction with our robotics platform 'Autonomous Logistics' and demonstrate them to our customers at the point of value creation.

Lutz Schneider, Product Owner Autonomous Logistics at T-Systems
With the Open RAN network from IS-Wireless we have a great value add to our industrial infrastructure used for research projects with our partners.

Peter Höhmann, project manager at Werner-von-Siemens Centre for Industry and Science.
We are happy to deliver Private 5G based on our latest technology. The fact that we were selected among tough competition indicates a good direction we took with our product development. It's both the functionality and quality that matters a lot, especially in the Industry 4.0 applications.

Slawomir Pietrzyk, CEO and Founder at IS-Wireless
About CampusDynA
CampusDynA https://campusdyna.de is an R&D project funded by the German Ministry for Economy and Climate Protection. It aims in the exploration of 5G Open RAN campus network capabilities for dynamic adaptation of campus networks and applications in industrial use cases. Applications cover autonomous mobile robotics, resource efficiency of production facilities and civil security of production sites. Project Partners are Gestalt Robotics GmbH, T-Systems International GmbH, OSRAM GmbH, Fraunhofer-Gesellschaft zur Förderung der angewandten Forschung e.V.  and Werner von Siemens Centre for Industry and Science e.V.